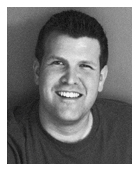 At TCP Photography, we strive to build relationships in a fun, safe, honest environment while capturing images of athletes and their events. The relationships we form with athletes, parents, coaches, and schools extend outside of the business because we love to laugh, have fun, and just be around people.
Tom Pearson
Owner . Photographer
Growing up, I spent much of my time either playing or watching sports, whether it was hitting a tennis ball against the garage or being consumed with all things soccer. Since 1998, I've extended my love of sports into photography, photographing sports and people all over Michigan and the Midwest. I love being able to capture the perfect moment: the touchdown catch, a state championship team, a little leaguer's love of the game.
I have a passion for serving others and serving God, and I'm excited to be able to capture life's memories for you.