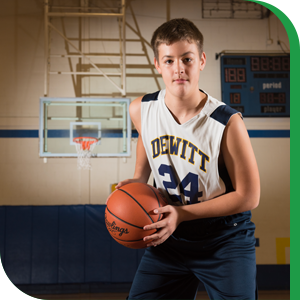 Looking for high quality photographs of your team or athlete? Tired of the same old, plain photos stuck in those generic paper frames? TCP can photograph teams and individual athletes from your school, youth league, or adult league with quick turnaround for prints and products.
Experience
We've been photographing Michigan athletic teams and camps since 1998, and we'd love to give you creative, high quality images of your athlete. We enjoy getting to know each team, and the relationships that we build with them in that short time allow us to capture their most natural expressions.
Modern Style
Having had many team pictures taken as a kid, I know where most of the paper memory mates end up: in the bottom of a junk drawer. Our modern poses and creative ideas will show your love of sports and give you images worthy of a spot on your wall. Our main objective is not to rush everyone through as fast as possible or sell the cheapest products, but to provide you with quality images that capture your true image and your love of sports.
By taking a little more time with each player, the team at TCP is able to connect with them, getting the most natural expressions. Our creative posing and fun atmosphere allow us to capture modern images that make your athlete look and feel like a superstar.
Professional Prints & Modern Products
Prints, buttons, magnets and other products are available for purchase, as well as custom 8x10 team/individual collage prints with professionally designed templates.